Research IT Resources
Research plays an important role not only at our University, but across the globe; for this reason Research IT department offers support by helping you realise your aspirations.
Researchers at The University of Manchester have access to powerful technology platforms and advanced skills encompassing high performance computing, software and data engineering, data visualisation and analytics and research data storage. Research IT provides specialised eResearch capabilities supporting researchers at the University to conduct world leading, high impact research.
High performance computing
IT Research HPC experts give advice and help to guide our researchers to the most appropriate platform for their needs. These platforms include:
Scalable Compute for Research @ Manchester (SCRE@M)
Condor Pools
N8 HPC (regional)
ARCHER (national)
PRACE (international)
Software and data engineering
The It Research team supports and give advice to researchers with code optimisation for a variety of platforms and applications such as MATLAB and Python. Also, our Research Software Engineers can work with teams to develop specific tools and platforms for a variety of projects (subject to availability and funding)
Consulting and support
Research IT provides support, consultancy and training in specific services as well as a range of specialised applications for the effective analysis and visualisation of data sets that occur during research. These services include:
Analytics and visualisation applications
Specialised research consulting
Research application support
Training
Data Storage and infrastructure
The demand to manage research outputs is growing and the Research IT experts can help with Research Data management plans and the delivery of highly scalable, agile research-data aligned storage solutions.
The team can provide virtual servers, database hosting and bespoke network infrastructure solutions.
Research IT Blog
The Research IT blog aims to keep you updated with the latest IT technology, resources, development and training to help you achieve better research outcomes, the blog is regularly updated with the latest news relevant to researchers at the University of Manchester.
To receive a digest every month of the top stories subscribe to the Research IT newsletter which has a fresh new look and feel in a responsive html format so the news is delivered direct into your inbox every month no matter where you are.
Main Contact: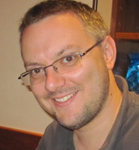 Robert Haines
Robert works with academics and researchers to design, implement, modify and install maintainable, usable and well-tested software systems to enable them, and their collaborators, to do their research. This might mean creating new software, researching entirely new ways of doing things or identifying and possibly modifying existing applications. He has worked in a wide range of domains for research projects of various types and sizes from small "proof of concept" investigations up to long-term multi-partner RCUK, EU and US NSF projects. He has also collaborated with diverse organisations such as utility companies, national laboratories, start-ups and public bodies as well as other universities. He also contributes to a number of open-source software projects.